THE FOUNDER of the South West's Freelance Mum community has been named Ambassador of the Year 2018 by IPSE – the Association of Independent Professionals and Self-Employed.
Faye Dicker, who lives with her family in Bristol was presented with her award at a ceremony in London last week on National Freelancers Day (June 28).
She said: "It was a crazy, wonderful day where Freelance Mum hosted the first official National Freelancers Day event outside of London – at Windmill Hill City Farm in Bedminster – and then I rushed to London to attend the award ceremony. I knew I'd been shortlisted for an award but had no idea I'd won. It was an amazing end to an amazing day."
Professional voice-over artist and broadcaster Faye set up Freelance Mum four years ago after struggling with the demands of juggling parenthood with being self-employed. Today it has an on line and off line community supporting thousands of men and women – and is known as the leading parent-friendly business organisation in the area.
Faye said: "I set up Freelance Mum because both parenthood and running your own business, have similar demands – they can be isolating, demanding and yet hugely rewarding. However there wasn't a support network combining both things.
"The number of self employed parents has doubled since 2008, in fact mums working for themselves now account for one in seven of all self-employed people in the UK. When you look at that stat – and take into account they are running a business around raising a family, it's no wonder Freelance Mum is such an important network."
Freelance Mum is a membership community and this was recognised at the national IPSE awards event. The Ambassador award celebrates the most proactive membership organisation, support group or knowledge hub within the IPSE organisation which campaigns for rights and recognition for freelancers across many sectors.
Freelance Mum officially celebrated its 4th birthday July 10th, with a workshop reflecting milestone moments in business.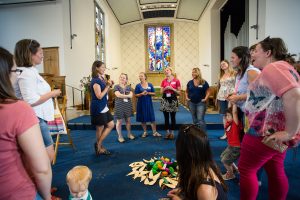 The autumn term begins with 'Back to Blog School' on Tuesday September 11th with award winning blogger, Jo Middleton. Tickets from £15.
For more information about these events and Freelance Mum visit Freelance Mum Events Listing.
Images by Nicola Jane Photography and Nisha Haq Photography
Press release written by Fiona Scott Media Consultancy is run by a UK-based journalist with more than 20 years' experience in the media – print, radio and television.
https://www.freelancemum.co.uk/wp-content/uploads/2018/07/Faye-Ambassador-Award-presented_n.jpg
640
960
Faye Dicker
https://www.freelancemum.co.uk/wp-content/uploads/2017/03/freelance-mum-logo-300x203.png
Faye Dicker
2018-07-24 10:11:27
2018-07-24 10:12:49
FOUNDER OF LEADING FREELANCE GROUP NAMED NATIONAL AMBASSADOR OF THE YEAR