What to look for in a workshop venue
Rin Hamburgh looks at the importance of finding the right setting when it comes to booking a workshop venue and some of the considerations for getting it right.
What to look for in a workshop venue
Where do you usually work? As a freelance mum, the chances are the your "office" is a dining room table, a patch of kitchen work surface, a lap tray on the sofa or even the front passenger seat of your car (just me??!).
Maybe you're fortunate enough to have a dedicated study or even rent some space in a studio or co-working location so your desk doesn't get cluttered with utility bills and Year 8 homework. But if your job involves running workshops then it's unlikely you've got enough space. Which means you're on the look out for the perfect venue.
So what makes the ideal workshop venue? Obviously we're all going to have different requirements to suit our personal style and the type of event we're running. But these are some of the factors you should be thinking about.
 Size
How many people are you expecting at your workshop? You want to make sure there's plenty of room for all the activities you're planning, especially if you're going to have lots of resources or need people to break out into separate groups. But too big is no good either – you want to get a balance so that the room feels cosy and intimate and encourages good group dynamics.
Location
There's no right or wrong when it comes to location. You might want a city centre venue that's easy to reach by public transport or a beautiful countryside space that helps people feel like they're escaping the rat race for a few hours. Think about what your attendees will be looking for. Is there parking available on site or nearby? Is the venue easy to find or will you need to provide detailed instructions?
 Amenities
The basics of good heating, lighting and bathroom facilities should come as standard but what else might you need? A data projector and blank wall or whiteboard are often useful, or even an interactive whiteboard. If you're going to be relying heavily on internet-based resources then it's worth checking that there's strong, reliable wifi. Depending on the length of your workshop you'll want to provide refreshments – even if it is just tea and biscuits – so are there facilities for making these?
Cost
Everyone wants a freebie, right? Well, possibly. If you can secure your ideal venue with no cost attached then brilliant. But don't be tempted to scrimp on the quality of a venue in order to save a few pounds. No one is going to recommend your workshop if they spend the morning freezing in a badly heated venue or couldn't concentrate because of the bad smell drifting in from the fish shop next door!
Atmosphere
This one is a bit harder to define and almost impossible to judge without a site visit. No matter how good a venue looks on paper, it's only when you visit that you get a sense of the people running the place, of whether the quality matches the photos you've seen and so on. The right atmosphere is only partly made by you and your attendees – the venue has a part to play too.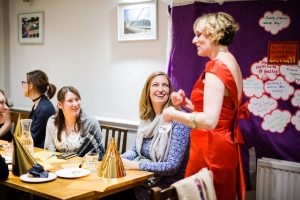 Getting the venue right can be the difference between your workshop running smoothly and being a mess of intermittent internet, bad coffee and cramped conditions. Put in the time to do your research now and you won't regret it when you're getting glowing feedback from all your happy attendees.
https://www.freelancemum.co.uk/wp-content/uploads/2019/01/Barn-Venue-Bristol-For-Hire-Workshop-Business-Meeting.jpg
667
1000
Faye Dicker
https://www.freelancemum.co.uk/wp-content/uploads/2017/03/freelance-mum-logo-300x203.png
Faye Dicker
2019-01-29 11:39:03
2019-04-25 16:21:20
What to look for in a workshop venue