The importance of putting your prices up
It's been four years since Freelance Mum launched. The initial pilot session was free, then we started charging a nominal fee of £5. Over the years there has been a slight increase but nothing that really reflected the level of input that actually goes into running an event. And believe me, quite literally hours go into every one – far more than you could probably imagine.
As I write the prices have just increased from £9 for members and £12 for non-members, to £15 for members and £20 for non-members. Membership is £45 and includes a free entry to FM, a day pass to the Lido (worth £20) and a whole heap of member benefits.
Today I had my first complaint about the prices. Although I was sad the member didn't feel they could afford to attend Freelance Mum any more and hope our paths cross again, it reinforced my decision.
We want Freelance Mum to be sustainable. We want Freelance Mum to be here for generations to come. We know Freelance Mum is unique – we are regularly recognised for our work and achievements. Just last week I was invited to the Women in West Business Awards. To celebrate 100 years since women got the vote, they drew up a list of the '100 most influential women in the West' – and there I was, with my name on the list for my work with Freelance Mum!
What an honour, what an incredible recognition that the small but mighty Freelance Mum can make a difference to peoples lives every day. And 100 years since getting the vote, in our own Freelance Mum way, we're carrying that mantle.
I digress – but it's an important digression to make. Because above allowing parents in business to network, Freelance Mum shows the next generation that you can do the thing you love. To do that, though, there has to be an element of realism… and so, back to the prices.
At the moment Freelance Mum is very much a labour of love. Every penny that comes in goes straight into building our little community. In four years Freelance Mum hasn't reached the tax threshold. And that isn't sustainable. Unless we can make the model work, how can it possibly last? How can we possibly empower or be a good role model for the next generation?
I had a sobering conversation while doing my books recently and it boiled down to one thing – the prices HAVE to increase. And really, if you're in business, is £15 or £20 a month too much to spend on your business? Not forgetting it is also business expense so tax deductible, and you don't need to fork out for childcare because you can bring your children along!
So here's what you're getting when you come to Freelance Mum – I mean the actual nuts and bolts, not just the enormous sense of well being and the lovely 'warm and fuzzies' of belonging to such a fabulous group. Here's the lowdown:
2 x hours of facilitated networking
Guest speaker
A chance to showcase your business on the gubbins table
Bottomless Fair-trade tea & coffee
Locally made fresh cakes and brownies
Follow up support emails
Delegates contacts (where permission is granted)
A great location
Snacks for children
Craft for children
Free entry for children
Professionally photographed events – to capture the memories
Coverage and support on social media
Ongoing support in The Mothership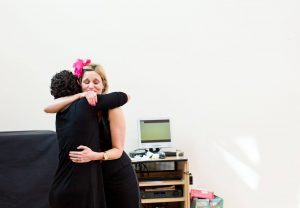 We remain by far one of the cheapest networking events in Bristol and we're entirely unique as we include children. In fact because it's unique I'm regularly told by one business coach that I should actually be charging a premium!
But I don't because I get it. I'm a mum too, to two beautiful little girls who I adore. I know just how hard it is to run a business while looking after little people. Don't forget, that this was born of my own need of trying to juggle my work as a voiceover artist around my children. I honestly feel your pain.
But not charging a sensible rate isn't doing any one any favours. In fact, it's does any one in a similar industry a disservice, because it undercuts them and gives others a false impression that the cheaper model is sustainable.
Which is why (after a great deal of thought and far too many apologies) the prices have finally been increased to reflect the hours of time that go into Freelance Mum. We want Freelance Mum to be here for generations to come, because doing the thing you love around bringing up children – well actually, that's priceless.
https://www.freelancemum.co.uk/wp-content/uploads/2017/08/Faye-Dicker.jpg
853
1280
Faye Dicker
https://www.freelancemum.co.uk/wp-content/uploads/2017/03/freelance-mum-logo-300x203.png
Faye Dicker
2018-04-24 21:00:20
2018-04-24 21:04:29
The importance of putting your prices up