12 ideas to manage your business and your time without losing your mind
12 ideas to manage your business and your time without losing your mind
A guest blog from our fab sponsor, Linda Davies-Carr, aka The Master Fixer
As a busy mum of 5 ( 2 girls of my own and 3 bonus boys) who always worked as a full time freelancer I have learned the hard way how to find more time in my day.  Whilst there is no easy answers, or quick fixes (sorry there really aren't)
I am proud to sponsor Freelance Mum and whilst I don't always manage to get to the meetings I think what Faye does is fab and the Evening Sessions last week was lovely.
So to help and support all you FM members I'd love to share with you my time busting ideas to help you manage your time and your business without losing your mind!This is what have I learned in 2017 –  here's my top 12 business takeaways for all you business owners 🤔
1. Be crystal clear on your goals and make sure they are written down.
2. Everyone needs a business coach – whether it's paid, unpaid or a straight talking mate – everyone needs accountability and some straight talking!
3. You need to know your numbers – if you don't know your numbers you won't be managing your business. What gets measured get managed!
4. Manage your pipeline – you need to know who next week's, next month's customers are. You need to create new customers flowing into your business.
5. Be flexible and supportive – but don't be a pushover.
6. Time management – it's YOUR time, but it's your mind that manages it. So learn how to develop MIND MANAGEMENT and you'll find the time. You know we all have the same 24 hours in the day, so be conscious what you spend it on. If you're not sure then complete a work day audit. If you don't know how drop me a line and I'll send you a checklist.
7. Work harder ON your business than you work IN your business. No one has the time – so you have to make a conscious decision to carve out the time. Refrain how you think about it. It's not admin – its business development.
8. Ask and ask again for testimonials. Never stop asking 🙂
9. Give it away over and over again – it will serve you and your business.
10. Do what you do best and outsource the rest – my favourite and my "go to" classic advice. If you think you can't afford it, my guidance would be you can't afford not to.
11. Mindset – your confidence will come from your mindset, so mind your mind. Download a free app, seek help, but take action.
12. Surround yourself with an epic team of people and friends. You are the average of the 5 people you spend the most amount of time with – so choose carefully.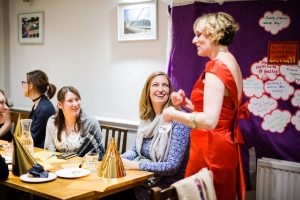 If you're serious about adopting a rock-solid mindset that will help you generate more sales, and lead you to new levels of monthly income, look out for a brilliant affordable coaching membership community (for less than the cost of 2 coffees a week):  The Straight Talking Collective launching in January 2018 with brilliant offers for Freelance Mum Members. Faye will have a link to share with you all soon.
In the meantime please check out my website for lots of free resources and useful information www.themasterfixer.com and pop over and say hello on social media.
Hugs
Linda x
https://www.freelancemum.co.uk/wp-content/uploads/2017/12/A-Networking-Christmas057.jpg
1365
2048
Faye Dicker
https://www.freelancemum.co.uk/wp-content/uploads/2017/03/freelance-mum-logo-300x203.png
Faye Dicker
2017-12-11 12:05:55
2017-12-11 12:05:55
12 ideas to manage your business and your time without losing your mind